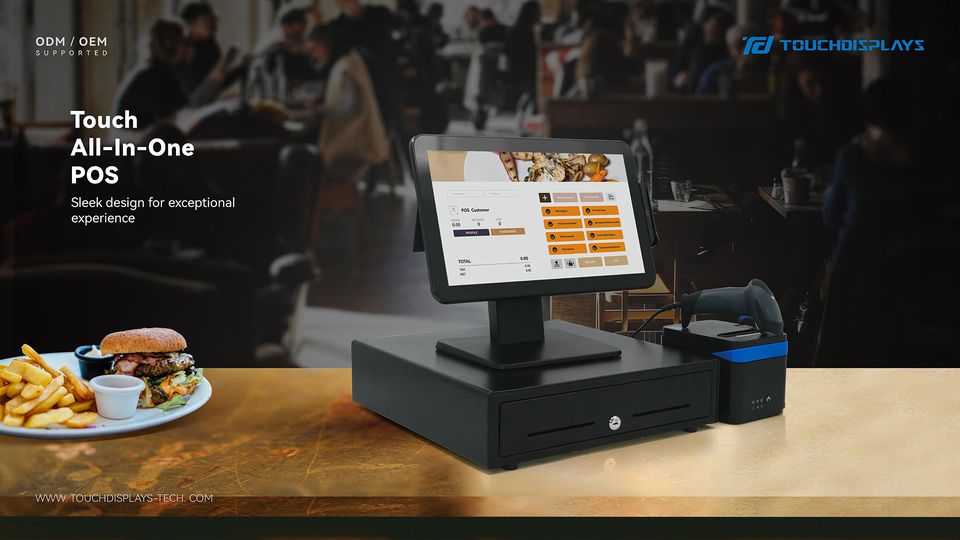 The initial cash registers only had payment and receipt functions and performed stand-alone collection operations. Later, the second generation of cash registers was developed, which added a variety of peripherals to the cash register, such as barcode scanning devices, and could be used as stand-alone machines or networked. The third generation of cash registers began to install operating systems, just like computers, which could be connected to a variety of peripherals, as well as a variety of software to manage the restaurant.
With the rise of new retail, intelligent catering cashiers have gradually replaced manual ordering and cashiering, improving the efficiency of the original operation. Many catering businesses have begun to introduce catering cash registers to enhance the operational capabilities of their shops. So what accessories do we need to buy together when we purchase a cash register?
1. Customer display:
Synchronizing information with the main screen, the dual screen allows customers to clearly view the ordering process or shopping list, enabling effective communication. The high-definition display also shows customers a wealth of shop activity consistently. Many POS registers come with a second display by default, but it is also advisable to check with the supplier for fitment at the time of purchase.
2. Scanners:
The range of scanners is constantly being updated as payment habits keep changing. Considering the differences in payment methods in different regions, the purchase of a cash register also needs to be paired with a scanner with applicable functions, such as barcode and QR code recognition functions.
3. Cash Drawer:
The use of money boxes to store cash can help to make the operation of a large number of orders at the till more orderly, and the ease of segregation management allows for a quick change to be made to customers paying in cash.
4. Printers:
Especially in restaurant operations, the use of printers can make all orders more clearly arranged. Sometimes two printers are needed to work at the same time, one is used for back-of-house printing so that the kitchen gets the latest order information; one is placed at the cashier so that customers can get their own order details.
5. Router:
With a professional network router for catering cash registers to allow faster network speeds for the cash registers.
6. Card reader:
As an important tool to support customers to make card payments, the card reader is an essential accessory for the cash register.
When buying a cash register, merchants should take into account the purchase of these accessories together, which can be greater to improve the overall efficiency of the cash register and provide better customer service.
It is worth noting that some cash registers are limited by the type of motherboard or interface and cannot support the connection of multiple accessories. Therefore, it is important to consider the configuration requirements in advance when purchasing a cash register, or choosing a manufacturer that offers customization services to avoid compatibility issues.
TouchDisplays, as a leading manufacturer of touch products, has always been committed to providing the best products and services to every customer. We offer a wide range of accessories to choose from along with our high-performance products. In addition, our extensive experience in custom projects ensures that we can create a unique solution to suit your needs.
Follow this link to learn more:
https://www.touchdisplays-tech.com/
In China, for the world
As a producer with extensive industry experience, TouchDisplays develops comprehensive intelligent touch solutions. Established in 2009, TouchDisplays expands its worldwide business in manufacturing Touch All-in-one POS, Interactive Digital Signage, Touch Monitor, and Interactive Electronic Whiteboard.
With the professional R&D team, the company is devoted to offering and improving the satisfying ODM and OEM solutions, providing first-class brand and product customization services. 
Trust TouchDisplays, build your superior brand!
Contact us
Email: info@touchdisplays-tech.com
Contact Number: +86 13980949460 (Skype/ WhatsApp/ Wechat)
tocuh pos solution touchscreen pos system pos system payment machine  pos system hardware pos system cashregister POS terminal Point of sale machine Retail POS System POS Systems Point of Sale for Small Businesses Best Point-of-sale Point of Sale for Retail Restaurant Manufacturer POS manufacturing POS ODM OEM point of sale POS touch all in one POS monitor POS accessories POS hardware touch monitor touch screen touch pc all in one display touch industrial monitor embedded signage freestanding machine